Forney 45 P PRO Plasma Cutter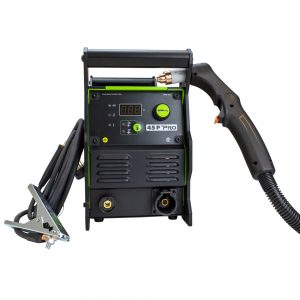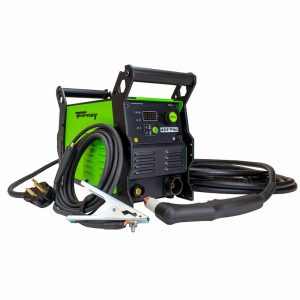 Forney Industries' powerful, professional grade dual-voltage plasma cutter can clean cut 7/8″ at 10 in/min and sever cut 1-1/8″ at 5 in/min. With a 15ft power cable, 25ft lead and lightweight design, Forney's 45 P has one of the largest work envelopes in the industry. Forney's 45 P features an all-metal construction, quick-lock torch connection, temperature-controlled fan, and reliable inverter technology.
This machine can be operated using Hypertherm® compatible consumables. Forney's 45 P comes with the plasma cutting power source, Forney® Ignite™ Plasma Torch, ground cable with ground clamp, 240V – 120V adapter cord, and replacement consumables.
SPECIFICATIONS
Input Power: 120 VAC / 240 VAC, 1-Ph, 50-60 Hz
Input Current: 120V: 14A / 240V: 14A
Output Current Range: 120V: 15-20 AMPs / 240V: 15-45 AMPs
Power Supply Type: Inverter
Duty Cycle: 120V: 60% @ 20A / 240V: 40% @ 45A, 60% @ 38A
Cut Rating – Mild Steel: 7/8″ @ 10 in/min
Sever – Mild Steel: 1-1/8″ @ 5 in/min
Input Power Cable Length: 15ft
Torch Length: 25ft
Ground Cable Length: 15ft
Recommended Gas Inlet Pressure: 100 – 130 PSI (6.9 – 9.0 bar)
Recommended Gas Supply Flow Rate: 6.6CFM
Minimum Gas Supply Flow Rate: 5.8 CFM
Gas Supply Lines Minimum Inner Diameter: 3/8″
Certification: CSA
Warranty: 3-year (power source), 1-year (torch)
UNIT DIMENSIONS (OUT OF THE BOX)
Unit Weight: 31 Lbs.
Dimensions: 18″ x 7-3/8″ x 12-3/8″
FEATURES
Dual-Voltage: Provides the operator flexibility for where their machine can be used.
Built Tough: Constructed with an all-metal case, built tough to take on the day to day.
CSA Certified: Reduces environmental impact and ensures quality and safety.